21st Century Library Opens to Serve Community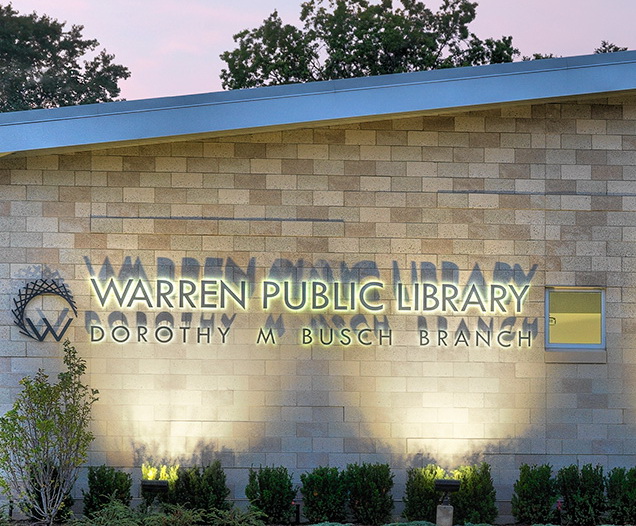 The new Dorothy M. Busch Branch Library opened on June 22, 2017 to an anxious crowd of community members excited to experience the next chapter in the Warren Public Library's legacy. City officials including the Mayor and Library Director cut the ribbon to open the new facility and the first new construction project in South Warren in over 50 years. The construction of this new Library keeps the promise made to tax payers that passed a Library Millage in 2010 to construct a new Library in place of the existing Library constructed in 1953.
PARTNERS in Architecture was tasked with the challenge of designing a 21st century Library that could serve the community for another 50 or more years. The team created flexible spaces with integrated technology including; a 50 person community room, computer area, teen area, children's area, study room and reading spaces all filled with natural light. The Library was furnished with all new furniture selected by PARTNERS to be durable and comfortable while saving costs with the utilization of leftover shelving from the last Library constructed several years prior. The Library was constructed to achieve an Energy Star rating and reduce utility and operational costs from the former facility.
Since the construction of the new building, the Library has experienced an increase in usage of the computers, circulation of materials and use of the spaces by local students for studying. The Library has been able to offer expanded programs to the community including computer skills training, meeting spaces for organizations and learning spaces for the local School District. This collaboration with the Fitzgerald Public Schools District started at the onset of the project. PARTNERS brought the Library and District together and helped facilitate the storage of the Library's materials in one of the District's unused buildings during the construction of the new Library. The close proximity of the School to the Library and ability for the Library to store materials there at no cost, saved the Library over $40,000 in storage and moving costs.