New Romulus 34th District Court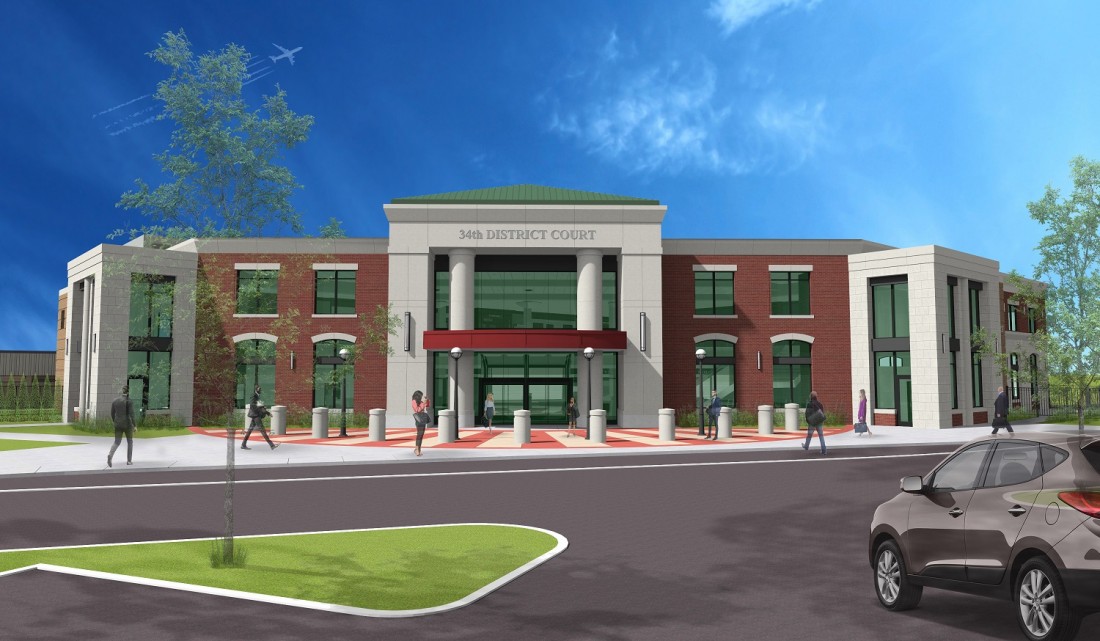 PARTNERS in Architecture is pleased to announce that we are nearing completion on construction of the 34th District Court for the City of Romulus, Michigan. After many years of waiting and planning, the City of Romulus selected PARTNERS to design and oversee construction of the new courthouse. The state of the art facility, comprising two stories, four courts, and 50,000 square feet, prioritizes safety and security through the separation of public, semi-secure, and secure spaces. Detainee circulation is optimized via a separate, secure circulation route controlled from arrival at the vehicular sally port through intake, general holding, and courtroom holding.
PARTNERS worked closely with the City of Romulus and the existing Court staff, assembling a diverse team of judges, administrators, department leaders, and user groups, which aided in the analysis of multiple civic campus master plans. Thoughtful management of design and construction allowed the adjacent existing court to remain in operation throughout the construction of the new building.
The building exterior, inspired by traditional courthouse design, employs durable, cost-effective materials that will ensure longevity and ease of maintenance. Brick and cast stone accentuate the facades and frame the prominent entry facing the civic campus. Upon entering, security screening occurs in a simple, controlled manner and directs visitors to the lobby; individuals can then proceed to either the transaction counter or the three primary courtrooms and magistrate serving the Civil, Traffic, and Criminal and Probation departments.
Careful application of interior finishes such as terrazzo flooring and wood trim lend stature and importance while creating an appropriate environment and keeping the project within its $20 million budget. PARTNERS hopes that the new 34th District Court will be both a safe, efficient facility conducive for all civic and legal matters and a source of civic pride for the City of Romulus for years to come.